The annual Booktube-A-Thon for 2017 begins in three days. Thus, I am going to share the books I plan to read for all of the challenges.
Before I share the books, I will share a bit about the booktube-A-Thon. It begins at midnight on July 23rd and ends at 11:59pm on July 30th.  The booktube-A-Thon is hosted by Ariel Bissett on the YouTube and Instagram accounts. There is also a Twitter account for the event that will host reading sprints throughout the Booktube-A-Thon. In addition, there are optional daily challenges on YouTube and Instagram that are announced at midnight each day.
I will be doing daily updates here and on Instagram telling you about the books I have read each day and the challenges I have completed.
So now, here are the reading challenges and the books I plan to read for each of them:
Challenge 1- Read a book with a person on the cover.
For this challenge, I chose to read Alienated by Melissa Landers. It is the first book in the Alienated trilogy. This book cover depicts two people on the cover Cara and Aelyx. The book has 344 pages.
Cara, a popular blogger and high school valedictorian,  is hand-picked as a host to the first ever alien exchange student Aelyx. Soon, her school gets caught up in L'eihr (The alien race) paranoia, and threatening notes begin to show up in her locker,  Cara notices that she is no longer safe there. She realizes that the only person she can turn to for help is Aelyx, and she is falling for him. Aelyx however is hiding a secret-the truth about his exchange- and its consequences are deadly. Now Cara is in a fight, not just for herself, but her planet.
Challenge 2- Read a hyped book.
The Last Star by Rick Yancey is the book I chose for this challenge. It is the third and final book in the 5th Wave Trilogy and has 338 pages.
The first book, The 5th Wave, follows Cassie in a world where aliens have arrived on earth to destroy all human. They are doing it in waves. The first wave was darkness. It destroyed all communication and electronics.  The second was natural disasters. It caused earthquakes and a giant tsunami that wiped out all major cities on the coast of all seven continents.  The third wave was a plague. A genetically engineered virus with an almost perfect kill rate. Then the forth wave came. The Others (aliens) began to show up on earth as humans. Cassie can trust no one. Now the 5th wave is coming, and Cassie is determined not only to survive, but to destroy The Others who took everything from her.
Challenge 3- Finish a book in one day.
I chose Illuminae by Amie Caufman and Jay Kristoff for this challenge. This is the first book in the Illuminae Files Trilogy. Though this book is 599 pages long, I think I will be able to finish it in a day due to the style it is written in. The book is fully written in the form of chat-room dialogue, surveillance reports, emails, interviews and other graphics. Many of the pages in the book only have around fifteen words (some even less), so it should be a very fast read.
It is the year 2575. Two rival mega-corporations are at war over Kady's home planet. She and her ex-boyfriend Ezra- who she has sworn never to speak to again- are forced together to escape an enemy warship. But that's not all. A deadly plague has broken out and is beginning to mutate. The evacuating fleet's AI has begun to turn against them, but nobody in charge will acknowledge it. Thus, Kady hacks into a twisted web of data to determine the truth. She soon understands that the only person who can help her piece together the information is Ezra.
Challenge 4- Read about a character that is very different from you.
Invaded by Melissa Landers is a book that about a character that is very different from me. This is second book in Alienated Trilogy and has 356 pages.  Aelyx, one of the main characters is very different from me because he is a L'iehr. He is part of an alien race and is now an exchange student on Earth.
I will not be giving a summary of Invaded because it is the second book in a Trilogy and the summary for the first book can be found under challenge number one.
Challenge 5- Finish a book completely outdoors.
This challenge is the least likely challenge for me to complete. If I do complete it however, I may be picking up a shorter book/graphic novel for it and will talk about that book in one of my daily updates. However I do plan on re-reading this book during the event anyway. The book I have chosen is The Hidden Oracle by Rick Riordan. This is the first book in the Trial of Apollo Series and it has 376 pages.
"How do you punish an immortal?
By making him human."
This book follows the Greek God Apollo after he is turned human. Apollo angered his father Zeus, so being the ruler of the gods, he turned Apollo human and now Apollo must try to regain his father's favor. Stranded in New York City as a teenager and without godly powers, the four-thousand year old Apollo must find safety from his many enemies- both gods and monsters.  Therefore, he goes to the one place he can think to go- Camp Half-Blood.
Challenge 6- Read a book you bought because of the cover.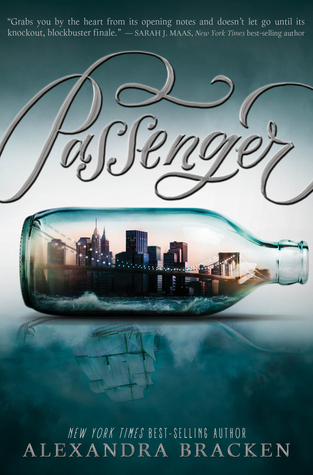 I don't know if this book counts for the challenge since I did not technically buy it, however before I got it, I was planning on reading it after I saw the cover online. So I am going to be counting it towards the challenge. This book is Passenger by Alexandra Bracken. It has 496 pages and is the first book in the passenger duology.
In one night, Etta Spencer, a violin prodigy, loses everything she loves. She is propelled into an exotic world by a stranger with a treacherous plan. She is only sure of one thing- not only has she traveled miles from home, but shes also years from it. Etta has inherited a legacy from a family shes never even heard of. Until now.
Nicholas Carter has a life at sea. Free from the Ironwoods- a powerful family- he is content. Suddenly, with the arrival of an unexpected passenger he feels an insistent pull from a family that won't let him go and a past he cannot escape. The Ironwoods are searching for a stolen object of remarkable value and they believe Etta can find it.
Now, Etta and Nicholas must commence on an uncertain journey across both time and place to piece together the clues left behind by a traveler willing to do anything to stop the Ironwood's from obtaining the stolen object.
Challenge 7- Read seven books.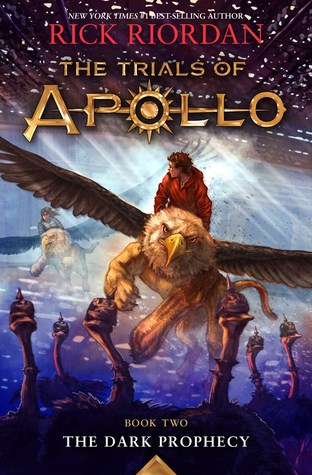 I decided for this challenge to read The Dark Prophecy by Rick Riordan. This is the second book in the Trials of Apollo series. The Dark Prophecy has 414 pages. Similarly to Invaded, I will not be summarizing this book since it is the second book in a series and I have already summarized the first book.
The first book, The Hidden Oracle, was for Challenge number five. You can see the summary of the book there.
These are all of the books I plan to read for this event. Some of my choices may change as the event progresses. Be sure to check out my Instagram for daily updates.