Since it's the middle of the year, I'm going to be doing the Mid-Year Book Freak Out Tag. This tag focuses on all the books you read in the first half of the year. So far this year, I have read 20 books towards my goal of 50 books. You can see more about my reading challenge here, if you are interested.
1. Best book you've read so far this year?
A Poison Dark and Drowning by Jessica Cluess and We Are The Ants by Shaun David Hutchinson were the two best books I've read this year. A Poison Dark and Drowning is the second book in the Kingdom on Fire Trilogy and We Are The Ants is a standalone contemporary that has become one of my all-time favorite books. You can find my reviews for both of these books by clicking on the titles.
2. Best sequel you read so far?
Besides A Poison Dark and Drowning, I also read and enjoyed Gemina by Amie Kaufman and Jay Kristoff, as well as Down Among The Sticks and Bones by Seanan McGuire. Gemina, the second book in the Illuminae Files Trilogy, is an action-packed science fiction novel told through messages, data files and an A.I. Down Among The Sticks and Bones is the second book in the Wayward Children Series, which is a series of companion novels following children who have been through doorways/portals to other worlds.
3. New release you have not read yet but want to? 
This has to be War Storm by Victoria Aveyard. I am currently re-reading the rest of the Red Queen series, so I have not yet picked up this book, however it will be my next read. This was one of my most anticipated books of the year and I cannot wait to read it! A review for the first book in the series, Red Queen, can be found here.
4. Most anticipated release for the second half of the year?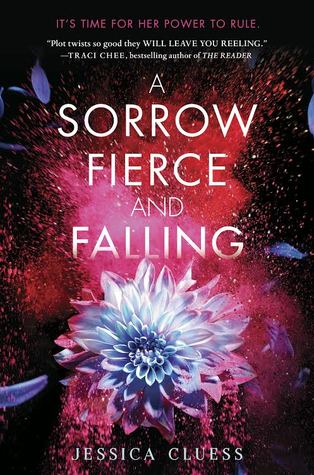 I am so excited for Kingdom of Ash by Sarah J. Maas. This is the 6th and final book in the Throne of Glass Series and I cannot believe this series is coming to an end. As well, I am super excited for The Towering Sky by Katharine McGee and A Sorrow Fierce and Falling by Jessica Cluess. These are the final books in The Thousandth Floor Trilogy and The Kingdom on Fire Trilogy, respectively.
5. Biggest Disappointment?
The Hazel Wood by Melissa Albert. While I was not truly expecting that much from this book, I did not enjoy it as much as many others seemed to. I have a full review explaining my thoughts on this book that you can find here, if you are interested to know more.
6. Biggest Surprise?
My biggest surprise was The Thousandth Floor by Katharine McGee. I did not expect to like this book as much as I did. This book takes place 100 years in the future in a massive one-thousand floor tower that encompasses all of New York City. It follows five teenagers that live in the tower and is a sort of sci-fi murder mystery that has lots of Gossip Girl vibes.  I have a full review where I discussed all my thoughts that you can find here.
7. Favorite new to you or debut author?
My favorite new-to-me author this year is Scott Reintgen. He is the author of Nyxia and the soon to be released Nyxia Unleashed. I thought Nyxia was very interesting and really well written A review for Nyxia can be found here, and a review for Nyxia Unleashed will be posted closer to the release date.
8. Newest Fictional Crush?
I think this one has to be George Blackwood from the Kingdom on Fire Trilogy. His character went through a lot of good development throughout the second novel and I am very interested to see the direction his character goes in the final book of this series.
9. Newest favorite character?
While I read Illuminae last year and was introduced to AIDAN then, I genuinely loved 'his' character in Gemina and especially Obsidio. AIDAN is a very compelling computer A.I who tells a lot of the story in this series. Throughout reading these books, I was always looking forward to reading AIDAN's parts and trying to decipher 'his' next move.
10 and 11. A book that made you cry? And, a book that made you happy?
I combined questions ten and eleven because I actually have the same answer for both. We Are The Ant by Shaun David Hutchinson was a highly emotional read that at some points was very light and happy, but at others was much more sorrowful.
12. Favorite book to movie adaptation?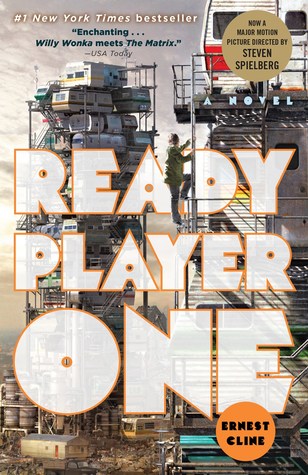 I both read and saw Ready Player One this year and I enjoyed both. While the book by Earnest Cline and the movie were fairly different, I really liked the way the story was told in both.
13. Favorite post I've done this year? 
Above is one of my favorite Instagram pictures from the year. My favorite blog post I've done is probably my review for either We Are The Ants or The Thousandth Floor. However, I am working on another writing/Sonnet Saturday post that I am liking.
14. Prettiest book you've bought this year?
Scythe by Neil Shusterman is probably the prettiest. I love the colors on it and the simplicity in the design. Although, I also think the cover of A Court of Frost and Starlight by Sarah J. Maas is gorgeous as well.
15. What books do you need to read by the end of the year?
By the end of 2018, I would really like to read The Book Thief by Markus Zusak, The Fellowship of The Ring by J.R.R. Tolkien, and catch up on Rick Riordan's books.
This tag was a lot of fun to complete, and if you did/plan to do this tag feel free to leave a link to your post. I'd love to see your answers!